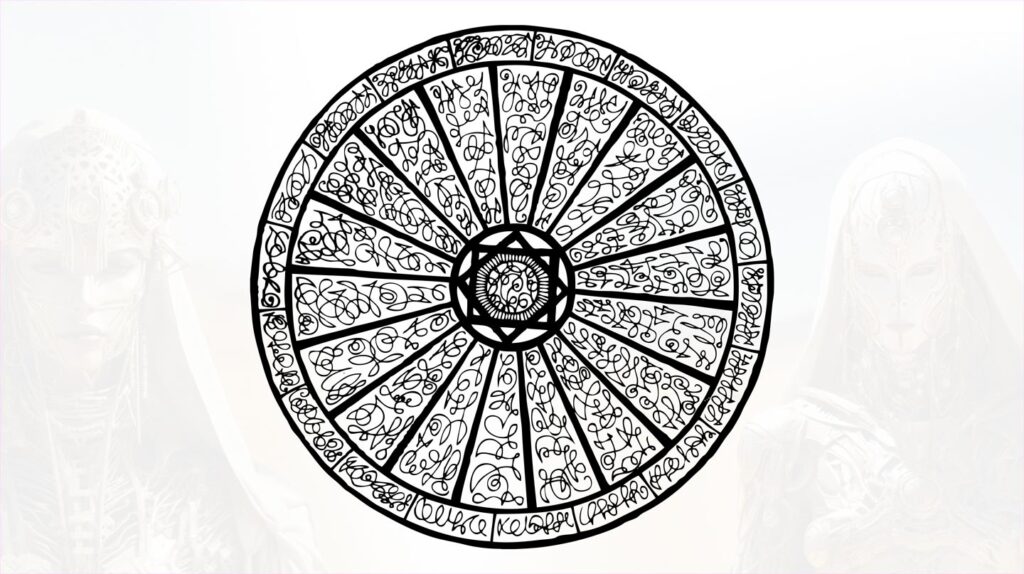 Continued from: [Ancient] Original Ones' Misuse of Power
★
The Seer:
We have a wheel divided into eighteen sections (drawn by Rogier several years ago) that depicts the sections I'm discussing here.
When discussing the duration of the respective quadrants during the time of maximum expansion of the cosmic spiral of life, we find that each quadrant has eighteen 75 billion-year-long sections (four of these sections in each of the quadrants, sixteen in a full rotation). There is a membrane between each of these sections, which is the habitat and the pathways of energy vampire beings known as the Arakana spidergoddesses. They primarily drain male energy during the dreamtime. They have infiltrated each of the quadrants and don't have a specific area of influence assigned to them.
At a practical level, what we experience as the cosmos rotates through these sixteen sections is that we encounter challenges and opposition, or chaotic conditions, as we move through these membranes. They are like an Akashic library of unlearnt lessons.
The Magic of the Gods
Some of the first 'space holders' created to provide the infrastructure of cosmic space were eighteen masculine supergods. But masculinity, without the presence of its opposite feminine component, corrupts. The corruption resulted in these eighteen distorted spidergoddesses. However, the Arakana method of maintaining influence through interspersed presence throughout the various quadrants has inspired a similar method of spreading influence for the Original Ones, who have influenced the cosmos by influencing life on Earth by their presence among humanity (a form of proxy magic).
Interspersing with humans is a different approach than previously practiced by the Original Ones, who were on Earth prior to their departure off-planet just before the last ice age. Their preferred way of teaching a lower civilization was to isolate themselves in high mountain ranges, away from the lower race. Mixing with humanity was a great risk, for the gods would forget their own divinity and might become caught in the human grid. But it was done to prevent the annihilation of man through a comet collision, by raising life on Earth into a higher realm beyond such a mass extinction event.
---