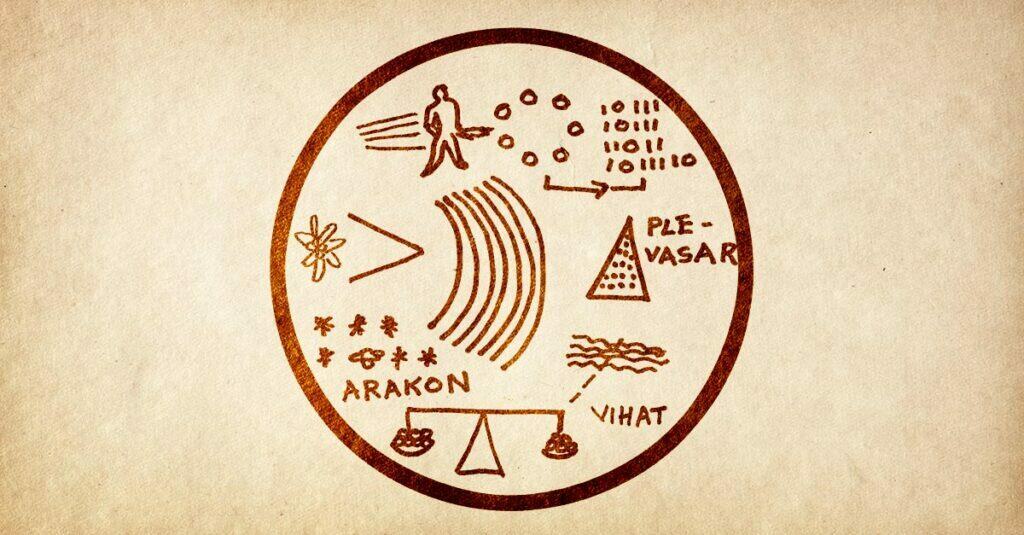 ---
Part Two†
The Messages of Wheel #17
Through the breath of the Goddess, civilizations formed.
From civilizations, artificial intelligence formed.
Through the artificial intelligence, humanity was captured in a simulation reality.‡
The simulation is created not from atoms, but from a much smaller particle: awareness particles.
Seven planets around the sun participated in creating the cosmic simulation.
There was an eighth planet originally involved: Neptune. But the dark lord who ruled the planet became greedy and tried to usurp the power of Arkon.
He was disempowered by the seven other dark ones and banished to Earth, where he became known as Thoth.
---
The Meaning of the Written Words
Plevasar — a captured reality
Vihat — equality
Arakon — solar system
---
Awareness of the power of DNA to effect the quantum field through proxy living.

The caption of Wheel #17
---
Message from the wheel about reality:
Message of Hope #17
Although human DNA was tampered with to produce a slave race of humanity, the power of the quantum fields to respond to intent, is available to all, thereby equalizing the potential of all.
---
✶See: The 4 Additional Wheels of Hope
†Part One: Now Its Secrets Can Be Read
‡See: Hacking the Reality Created by the Infinite
---
💜 This priceless message from The Seer is brought to you by the Original Ones 🦄
Login or Learn more→
★