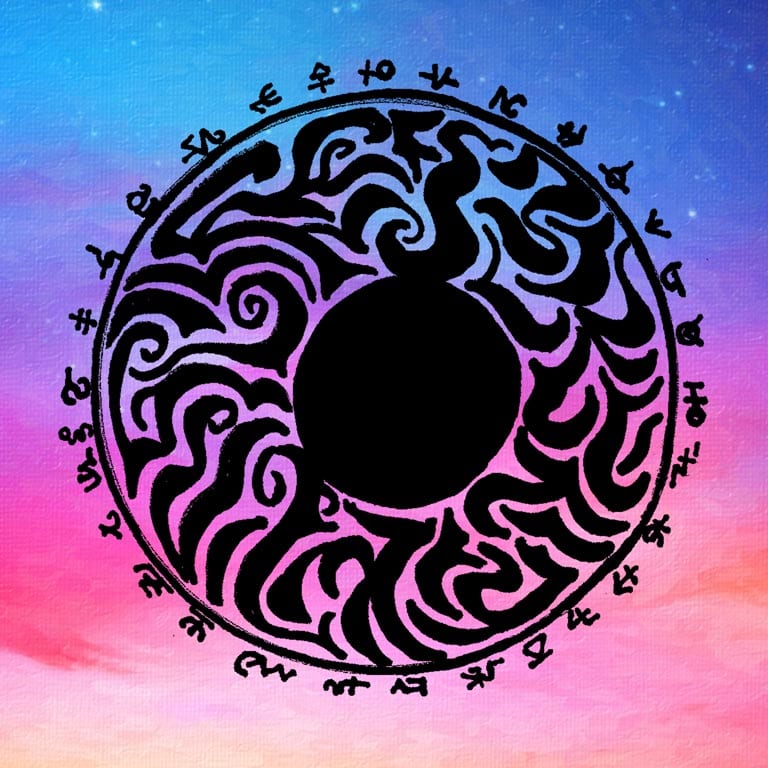 The Seer:
The four Angelgods of this powersigil [for the Red Road Journey] are each presiding over 144 legions of angelic beings. (A legion is comprised of 5,000 angelic beings.)
Thirty Generals
The thirty small sigils around the outside of the circle, are the names of thirty "generals" amidst these legions of Angelgods. Their very specific task is to bring supported stability and graceful change during the Red Road Journey. The angelic language associated with these Angelgods is like nothing I've ever encountered.
---
Creating a Rich Inner Infrastructure

The foundation for living a life of miraculous manifestation, is the cooperative interaction of inner and outer space.
The Meaning of the Words and Sigils
To cooperate with universal forces, the master focuses on internalizing the perception and lessons gained from external experience during the Blue Road to the center of the cosmic tube Torus movement.
During the centrifugal movement away from the center of the cosmic tube-torus — the Red Road of Expansion — the individual gets to know the internal nuances of his or her inner space and externalizes these inner qualities through expression.✶
---
8/12 Self Wheels «Red Road Ceremony»
The downloads for the Red Road Ceremony (Saturday, August 12, 2023 @ 8 AM Pacific) are now available on our store 👉 click here. The ceremony will consist of enhanced versions of the Self Wheel protocols for self-knowledge and self-love. For maximum effect, both sets of 144 qualities should be internalized ahead of time. The ceremony recording will be available after the event.
---
✶Learn more about the cosmic in-breath and out-breath in Journey to the Heart of God