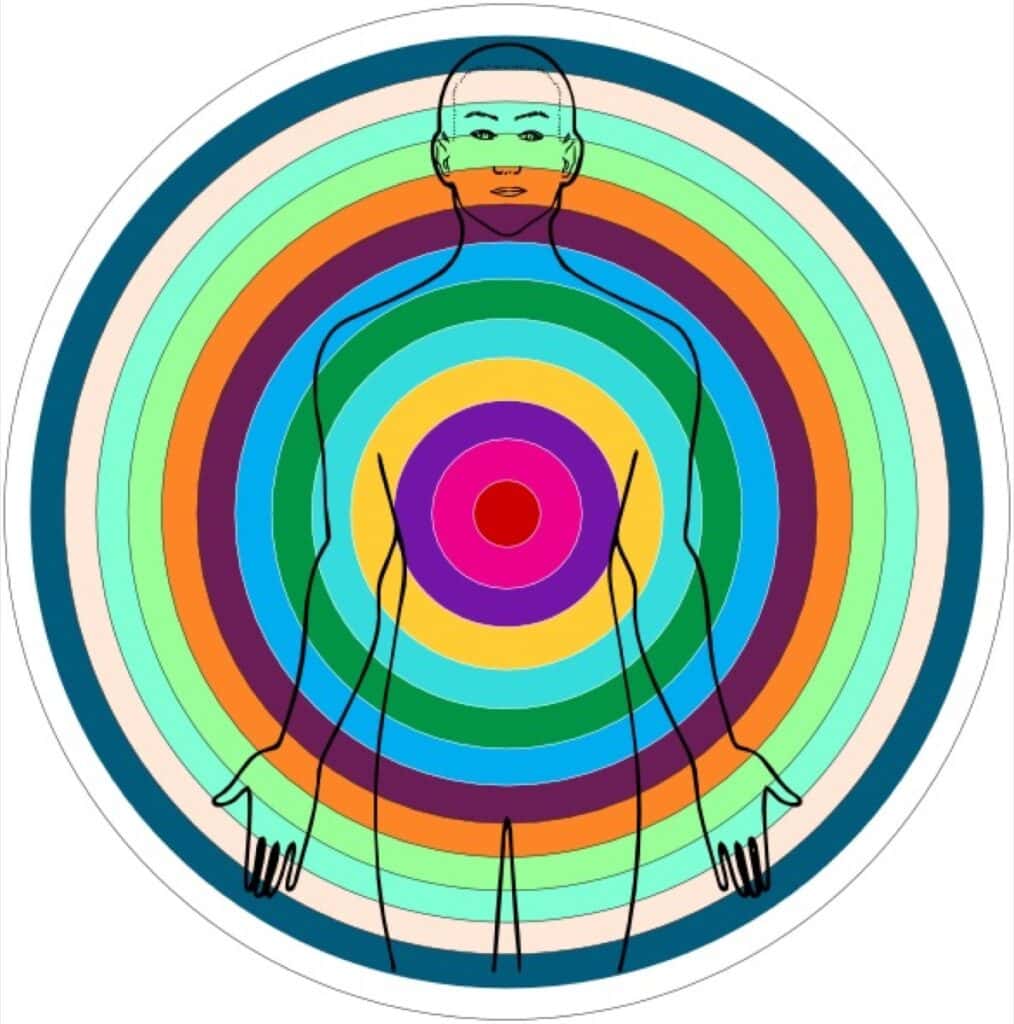 ---
For the sake of scope, here is the complete Light Explosion Protocol. It has been updated with the required perception / application of the 13th color — the deep teal light.
---
Instructions
Take a deep breath, and forcing it out, visualize an explosion of light from the center of the body in a sphere — moving outward through homes, family, pets, property, vehicles, etc. Repeat this with all the colors.
Do this protocol twice a day – when you wake up and at bedtime (due to increased vulnerability during sleep). You may do it at other times during the day.
As you create the white light explosion (the last one), say the words:"I am invisible and impervious to all hostile and invasive intent." See the white light (a white pearlescent color) settle like a shield around all the other colors within its sphere. Imagine (envision) this beautiful pearlescent cocoon of light forming around you as you breathe out slowly. Any time the day gets overwhelming or negativity is directed at you, remind yourself of this impervious luminous cocoon maintaining your safe and sacred space. Nothing harmful can enter into it.
---
The Colors of the Explosions and Their Functions
Red light – shields against hostility.
Magenta light – removes discordant emotions and frequencies (HAARP, etc).
Amethyst Purple light – removes ghosts in the body and environment.
Golden yellow light – removes demonic presences and interference.
Turquoise light – counteracts black magic and removes curses.
Emerald green light – shields against invasive frequencies and programs designed to manipulate emotions.
Sky blue light – protects against infectious agents such as viruses, bacteria, etc.
Violet light – protects from EMF, ELF and geopathic stress.
Amber light – protects against particulates in the air, such as pollen, animal dander, mold, fungus, spores and carbon particles in smoke, etc.
---
Four Additional Colors to Build Your Shield of Invisibility to Harmful Influence
The colors must be embodied and lived in order to cultivate the ability to generate a strong light explosion.
Apple Green Light (10)
Protects against viruses. (The 33 Principles of Fullness assist with living the color apple green.)
Required perception: Life is a portal of the spiritual.
Required application in daily life: Living in reverence within a Holy Sanctuary wherever you go. Create abstract, fluid reference points of inspiration in your day.
Physicality is the portal of the spiritual that animates it.

The Seer
Aquamarine Light (11)
Shields against fungi.
Required perception: There is no difference between limited and limitless. To understand this, imagine a large delicious cake. The cake in its entirety cannot be experienced, only one bite at a time. Limitlessness cannot be comprehended, nor experienced, except as one limited portion of it. Whatever is limited, is still part of limitlessness. A bucket in the ocean can be filled with a limited amount of water, but it is still part of the ocean.
Required application in daily life: Cultivate inner strength by cultivating self-sovereignty in all aspects of your life. See yourself as a conduit of eternal supply.
Peach Light (12)
Protects against parasites.
Required perception: Disciplined Divinity. Neediness creates obsessiveness. Cultivate aware receptivity through gratitude for the inspiring beauty and miraculous unfoldment of life, to know the fullness that's yours to experience every moment.
Required application in daily life: Imagine your mind to be a chariot drawn by two horses. With discipline, reign in 'the horses of your mind' so that you may not succumb to the folly of mankind, nor self-indulgent excuses for living from fear rather than faith. School your vision to search for the praise-worthy rather than the obvious flaws of humanity, for you become what you focus on.
Deep Teal Light (13)
Protects against nanotechnology, biometric surveillance and other types of physical invasion by hostile technologies.
The altering of the ink blue to a deep teal by adding a bit of emerald green, alters the protecting against nanotechnology to include biometric surveillance technologies and invasive private digital monitoring.

The Seer
Required perception: What you experience as your surroundings, is but yourself reflected in a mirrored world. To fear anything is to fear yourself. The opposite of fear (which is the desire to retreat) is love (the desire to include, embrace).
Required application in daily life: Find the essence, the core of what it is you fear, and gratefully realize that it is the way in which you alert yourself to what it is you have withheld your love from. Pause and try and see the lovable and praiseworthy aspects of what you fear. See its worth in your life. Anything you encounter has something to teach you or it wouldn't manifest along your eternal journey.
Seer's Note:
A lot of things that we may find upsetting in the moment, when viewed from an eternal perspective, can be seen as but a bump in the road that will not matter even a few years from now.
---