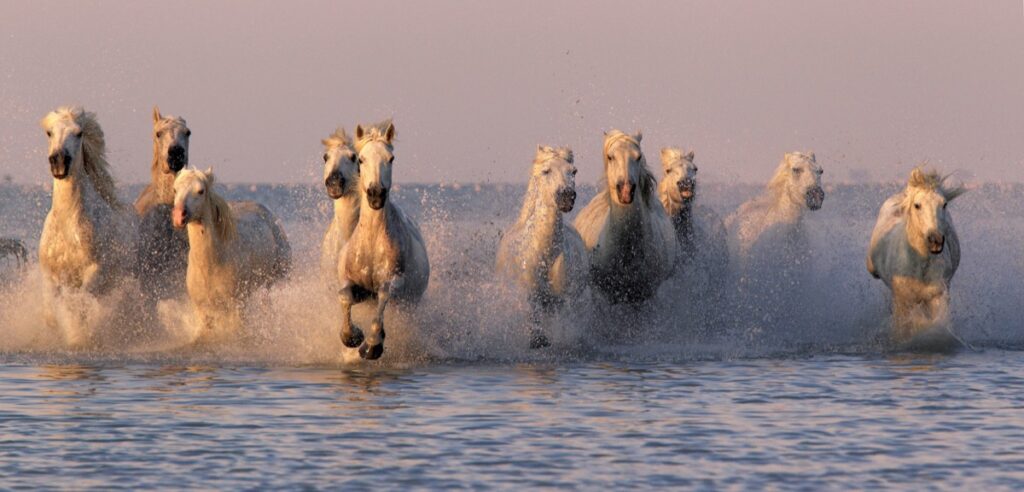 The Poetic Perspective
The Seer's Favorite Poetry
---
In the grey wastes of dread,
The haunt of shattered gulls where nothing moves
But in a shroud of silence like the dead,
I heard a sudden harmony of hooves,
And, turning, saw afar
A hundred snowy horses unconfined,
The silver runaways of Neptune's car
Racing, spray-curled, like waves before the wind.
Sons of the Mistral, fleet
As him with whose strong gusts they love to flee,
Who shod the flying thunders on their feet
And plumed them with the snortings of the sea;
Theirs is no earthly breed
Who only haunts the verges of the earth
And only on the sea's salt herbage feed-
Surely the great white breakers gave them birth.
For when for years a slave,
A horse of the Camargue, in alien lands,
Should catch some far-off fragrance of the wave
Carried far inland from this native sands,
Many have told the tale
Of how in fury, foaming at the rein,
He hurls his rider; and with lifted tail,
With coal-red eyes and cataracting mane,
Heading his course for home,
Though sixty foreign leagues before him sweep,
Will never rest until he breathes the foam
And hears the native thunder of the deep.
And when the great gusts rise
And lash their anger on these arid coasts,
When the scared gulls career with mournful cries
And whirl across the waste like driven ghosts;
When hail and fire converge,
The only souls to which they strike no pain
Are the white crested fillies of the surge
And the white horses of the windy plain.
Then in their strength and pride
The stallions of the wilderness rejoice;
They feel their Master's trident in their side,
And high and shrill they answer to his voice.
With white tails smoking free,
Long streaming manes, and arching necks, they show
Their kinship to their sisters of the sea-
And forward hurl their thunderbolts of snow.
Still out of hardship bred,
Spirits of power and beauty and delight
Have ever on such frugal pasture fed
And loved to course with tempests through the night.
Horses on the Camargue
by Roy Campbell
Poet laureate
Durban, South Africa