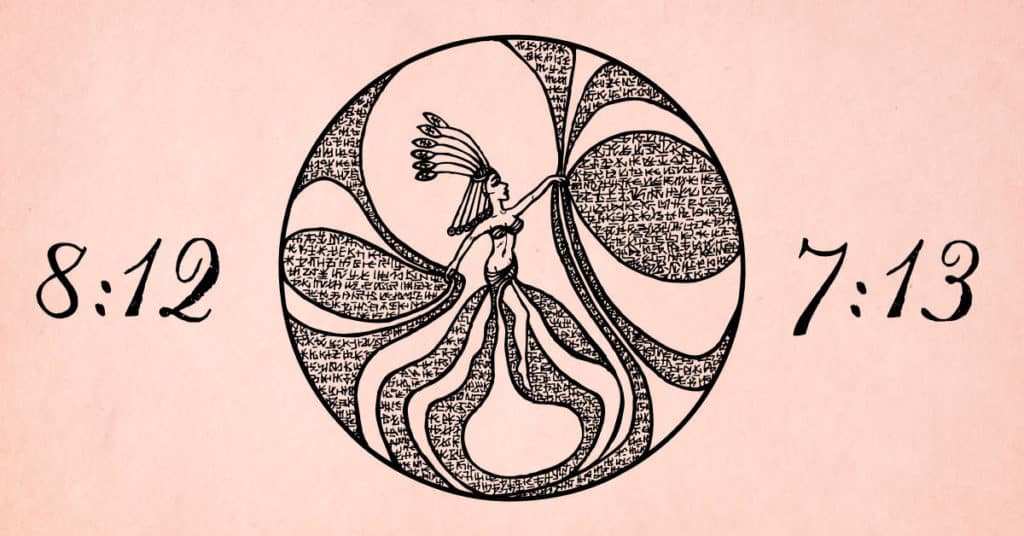 ---
In a series of visions in 2007, I was able to see that universes lie in alternating clusters of 12 and 8… You will notice the sets of numbers 8 and 12 present in the configuration of the 24 chakras. In addition, there are 8 extraordinary meridians, and 12 ordinary meridians. The relationship between the 8 and the 12 has been largely unexplored, but these numbers can be traced everywhere.

The Seer Almine
---
Rogier:
You once taught me that "angel numbers" (777, 11:11, etc.) were a function of now-obsolete matrices, deep within the Dream. It's fascinating, therefore, that there is nevertheless a strong numerological component in our upcoming Angelic cosmic ceremony on 8/12.
In Windows to Eternity, you describe how the Mother's cosmic DNA, and our microcosmic DNA, are sequenced in clusters of 8 and 12. And how 12 light rays, in clusters of 8, "from the spinning Earth's core originate". The current calendar year, of course, is 2020 (8 + 12 = 20). Is there a deeper significance here that you can elaborate on?
The Seer:
Yes, there is. The madness in mankind, that has gone on around us, has been the result of our cosmic journey around the edge of the cosmic tube torus — the place where unresolved karma is stored. The 'Out-Breath of God' (as it's called by many in Asia; it's called 'the Red Road' by indigenous people) is turning into the In-Breath — the Blue Road back to the center of the tube torus.
The light has been bending and, although I don't understand what this means, the Angelgods are saying, "the light is the pathway of the movement of awareness particles".
---
Thus cosmoses move in strings of twelve
Joining into one the potential of multiple realms,
The twelve strands first merge at one time
But there are eight such clusters, you will find
Next move the eight clusters again, joining into one
Eternally to repeat, for this pattern has just begun
The eight clusters of twelve in themselves a cluster make
There are twelve just like them; twelve clusters of eight
---
Why the Chaos?
The Seer:
When light bends, it causes madness in all creatures — even the non-physical ones.
On the 12th of August we exit the bending edge of the cosmic tube-toral movement and we start our journey back to the 'Heart of God' — the center of the cosmic tube torus.
The 12/8 significance lies in the fact that there is an upcoming alteration in the cosmic clusters of DNA.
There has been such chaos because one of the cosmic strands of eight, is disintegrating, and one additional strand is forming in the cluster of twelve. The clusters become 7 clusters of 13.
---
"…duality arises from separating the threads of the tapestry for examination and learning. Duality had resulted in corruption and, combining Her DNA strands (eight clusters of twelve), Mother began the healing of duality."

Windows into Eternity
---
🦄 This priceless information is brought to you by the patrons of the Original Ones and the supporters of The Seer Almine. Thank you 💜✨ You make this website possible. Learn more →